Installation/Field Service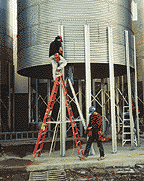 The concept behind Advanced Bulk and Conveying, Inc.'s Installation and Field Service Department is to have "in-house" installers who can quickly and completely support the expansion, maintenance, and operational requirements of our customers. We are in partnership with you in that your success insures our success.
Whether you require a full turn-key mechanical installation, tubing installation, concrete foundation, structural steel, electrical, on-site supervision for a customer-supplied crew, regularly scheduled maintenance or emergency shutdown situations, Advanced Bulk and Conveying, Inc.'s service technicians are ready to help you!
Experience and total system knowledge enable our field service technicians to solve your problems quickly. The complexity of today's manufacturing facilities and the unique handling requirements of diverse bulk materials call for people who know material handling. We understand the economics of down time and the effect that diminishing material handling rates and capacities have on production. Material handling is what we do. Material handling is all we do!
---