Controls-Railcar Unloader
---
Delivery of plastic resin material by bulk railcar offers significant savings over alternate methods. Recovery of investment is made quickly and the savings soon adds to your financial bottom line. Advanced Bulk and Conveying, Inc., has the quality equipment that you want and the experience that you need to build the pneumatic conveying system best suited to your Railcar Unloading operation. Each customer has their own special requirements for material convey rates and storage capacities. We design and build each Railcar Unloading system from standard components combined specifically to achieve the results that you require. Your requirements will determine whether a vacuum batch, continuous vacuum or pull/push system is best in your application.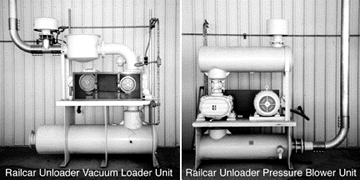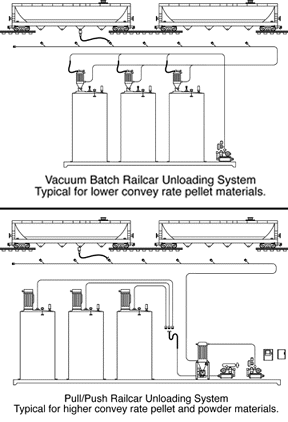 ---
Filter receivers are used instead of a cyclone collector in a railcar unload system to separate material and dust from air when conveying powder, granular, or pellet material. Advanced Bulk and Conveying, Inc. filter receivers operate on reverse air pulse principle. When product and dusty air enters the filter receiver the heavy product falls by gravity to the

discharge cone and rotary airlock. The dusty air passes through the filter bags, leaving dust on the bag exterior. Filtered air is drawn by vacuum through the vacuum pump and is exhausted to atmosphere. An electric timer actuates valves in sequence, which releases compressed air through venturi tubes. Shock waves formed in the venturi travel downward and release caked dust from the bag exterior onto the product in the discharge cone. The standard unit is of carbon steel construction, includes 11O VAC auto sequencing reverse pulse timer controls in a NEMA 4 enclosure, 16 oz. polyester felt filter bags, differential pressure gauge, inlet stub in cone, outlet stub on the filter head, and industrial enamel coated exterior.
Options: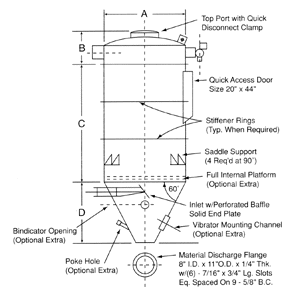 ---
Advanced Bulk and Conveying, Inc., cyclones are a high efficiency design constructed of carbon steel. We offer several models with capacities 100 to 45,000 CFM.
Model ASC Spun Cyclone-Low Volume
The Model ASC cyclone cone is spun over a steel mandrel, producing a work-hardened surface that is extra hard and perfectly symmetrical.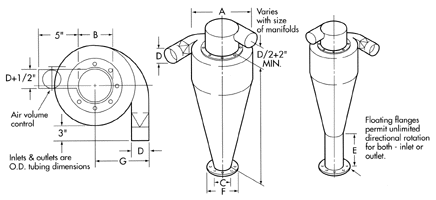 Model AC Cyclone - High Volume
Rolled and fabricated long cone design for high volume applications.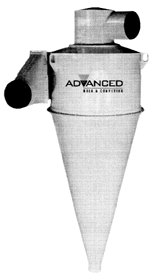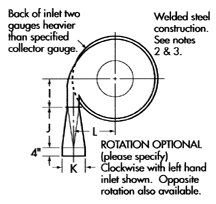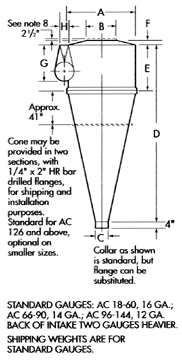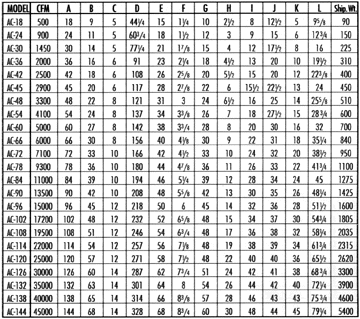 ---
Advanced Bulk and Conveying, Inc., can provide a rotary airlock feeder for every application where a dry material in powdered or granular form is gravity fed or conveyed pneumatically. The standard fall through airlock is provided completely assembled and includes TEFC motor with right angle gear drive, chain drive with guard, cast iron body and carbon steel rotor.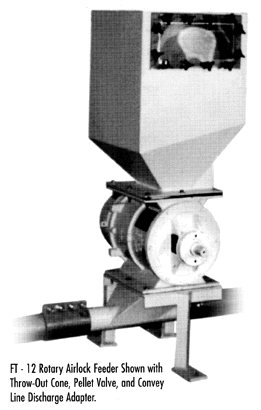 Options:
Accessories: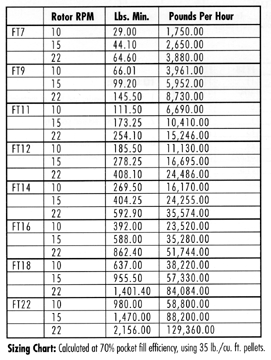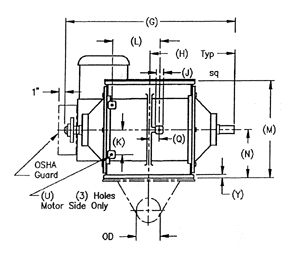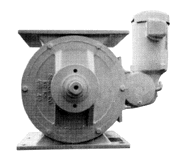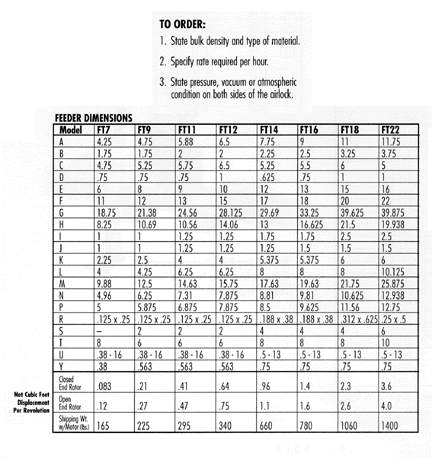 ---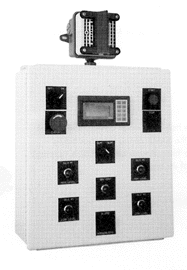 Advanced Bulk and Conveying, Inc., control panels for railcar unloaders are designed and custom programmed to fit the exact needs of each system. Even though the basic concept of most dilute phase railcar unloading systems is the same, individual installations will vary in regard to number of silos, type and location of level controls, number of electric motors, optional sensors and accessory equipment. Our control panels are designed for reliability, ease of operation and years of consistent service in an industrial environment.
Basic Railcar Unloader Panel (Shown) Includes:
---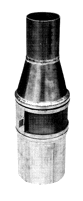 Advanced Bulk and Conveying, Inc., manufactures standard unloading components for off-loading plastic pellets and powders from railcars in dilute phase conveying systems.
Railcar Adapters
Railcar discharge adapter fits over the end of the discharge tube on the bottom of the railcar and connects to the convey hose coming from the pipe manifold. A rotating outer sleeve allows adjustment of the air-to-material ratio.
Hatch Filters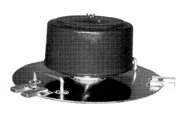 When unloading railcars, the hatch on each compartment must be open to allow air to take the place of the material being withdrawn. The railcar hatch filter mounts on the hatch opening and prevents contamination of material.
Air Inlet Filters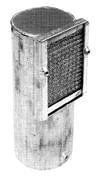 The inlet filter fits on the far side of the railcar discharge and prevents contaminents from entering the conveying air stream.

To complete your railcar manifold, see Advanced Bulk and Conveying, Inc., catalog sections on Flexible Hose, Pipe and Tube Welded Fabrications, Compression Couplings and Installation Hardware.
---