Vacuum Loaders

Manual Central Filters

Self-Cleaning Central Filter

Vacuum Receiving Chambers

Vacuum Loader Control Panels
---
Advanced Bulk and Conveying, Inc., vacuum loader packages come completely assembled, engineered and factory guaranteed. Our standard package includes a Roots Universal RAI rotary positive displacement blower, v-belt drive, OSHA guard, TEFC motor with slide base, relief valve, vacuum gauge and discharge silencer all mounted on a unitized base.
Optional Equipment: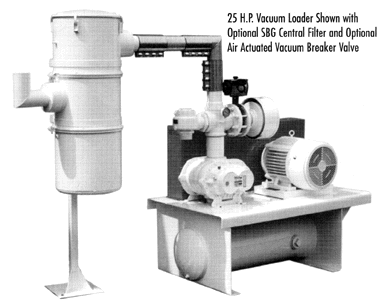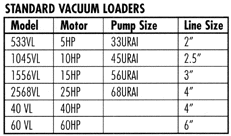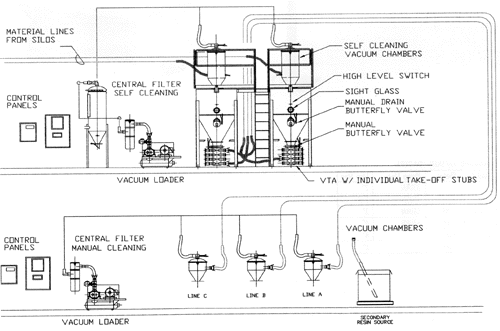 ---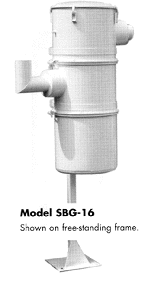 Manual filters are used to remove dust from vacuum system convey air prior to passing through the positive displacement blower. Advanced Bulk and Conveying, Inc., supplies the filter on a free-standing frame for floor mounting or with mounting bands for various remote mount installations. When ordering, specify the airline size and configuration of the inlet and outlet (straight or 90 degree elbow).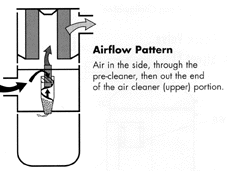 ---
Advanced Bulk and Conveying, Inc., self-cleaning central filters are free-standing vacuum filters which use reverse pulse compressed air to automatically clean the filter media. These filters save on maintenance time and filter replacement costs when compared with standard cartridge type vacuum filters. The unit is constructed of carbon steel, comes with industrial enamel finish, 6Ó butterfly valve dust discharge, polyester felt filter bags, bottom bag removal with side door filter access, 110 VAC reverse pulse blow down panel and outlet check valve.
Options: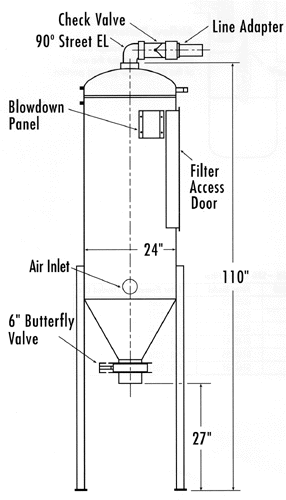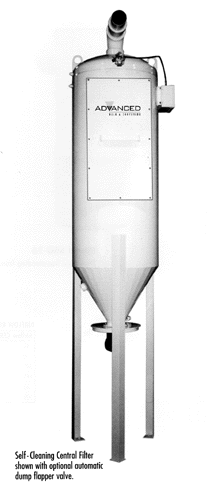 ---
Advanced Bulk and Conveying, Inc., vacuum chambers come complete with aluminum bodies, carbon steel lids with internal separation screen, mounting flange, solenoid actuated vacuum control valve, high material level sensor and 5Ó counter-weighted dump valve. Our chambers are available in a range of sizes so that the proper chamber can be matched to the system requirements.
Options Include: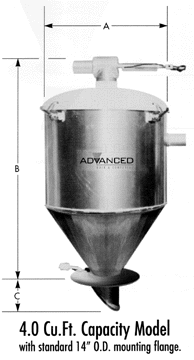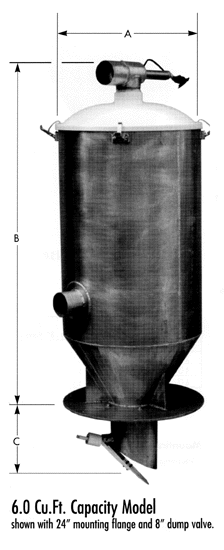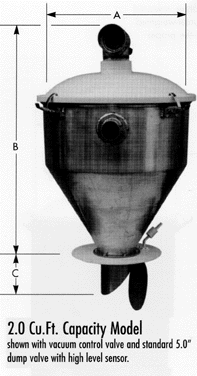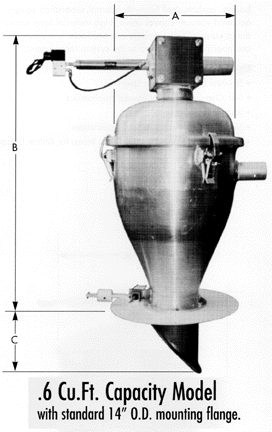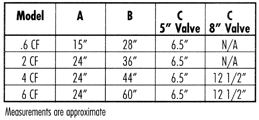 ---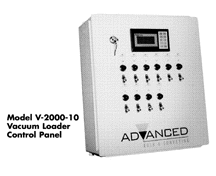 Advanced Bulk and Conveying, Inc., vacuum loader control panels are designed to work with any multiple station central vacuum loading system which uses either a 110 VAC or 24 VDC solenoid on the vacuum control valve. Level sensor signal is 110 VAC or 24 VDC. Standard enclosures are NEMA 12 rated. All panels are PLC based. Programming of individual loading stations is easily done through a touch screen mounted on the enclosure door.
Options and Features: